Build In Public
Being Featured in The Rundown: A Reflection on a Marketing Success
Sharing a cool marketing milestone for Replicate Codex.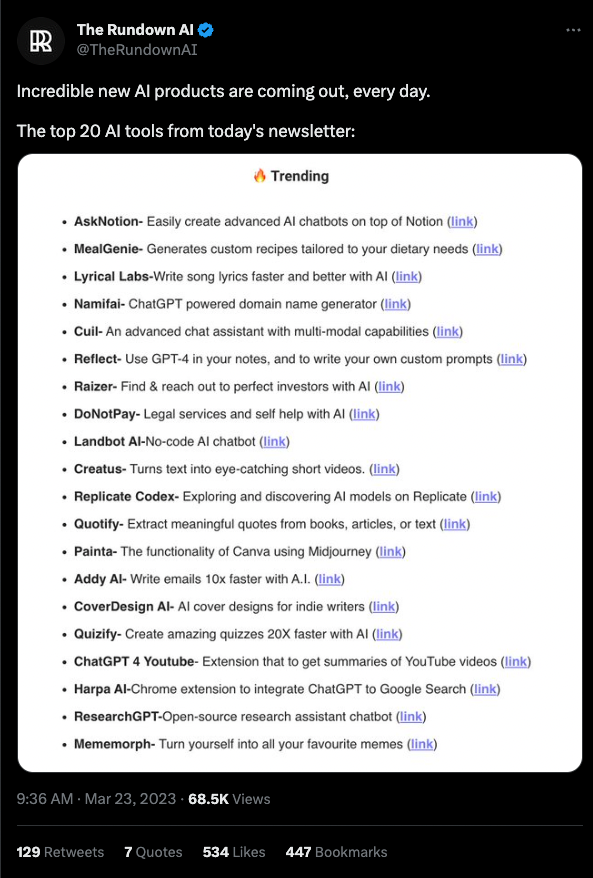 If you're an indie developer, you know how exciting it is to see your work receive recognition. It's a rewarding feeling that validates the countless hours of effort you've put into building something you're passionate about. You also know how important marketing what you're building is - and that it's often a game of getting told "no" more often than" yes."
Today, I'm writing this blog post to share a recent marketing milestone I achieved with my project, Replicate Codex, and to offer insights that may help others in the indie hacker community.
Replicate Codex: An Overview
Replicate Codex is a platform that serves as the most comprehensive resource for exploring and discovering AI models available on Replicate. It's designed to make AI models searchable, making it a valuable tool for researchers, developers, and AI enthusiasts. By allowing users to search, filter, and sort through a vast database of AI models, Replicate Codex aims to simplify the process of finding the right AI model for any project.
The Big Moment: Featured in The Rundown
On Thursday, Replicate Codex was featured in The Rundown, a daily newsletter that provides readers with the latest developments in AI before anyone else. They have a submission process, and you can submit your tool for consideration on their website. I was surprised by how quickly Replicate Codex was featured!
With over 50,000 daily readers, The Rundown is a go-to source for AI enthusiasts across industries, from Microsoft and Tesla to Nasa and Meta. Being included in their top 20 AI tools of the day was both humbling and exciting.
The Impact: A Noticeable Increase in Traffic
The results were immediate. After being featured in The Rundown, Replicate Codex saw a noticeable increase in traffic. I tweeted about this big surge in traffic, which was about 100x what I was averaging just a few days ago.
This surge in visibility brought new users to the platform, leading to valuable feedback and ideas for future improvements. I couldn't be more grateful for the opportunity to be recognized by such a reputable source, and I'm thrilled to see the positive impact it's had on the platform.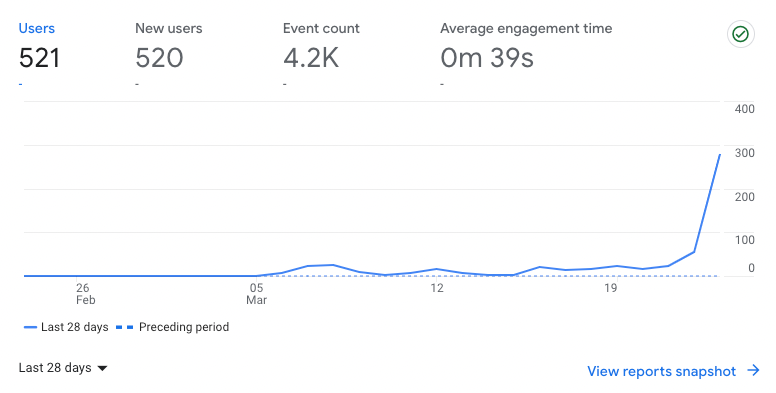 Weird caveat: In GA4, nearly all these visitors showed up as "direct" rather than "referral" traffic. But the timing is unmistakable. GA4 consistently has errors like this and at best can get you to 90% certainty on your true numbers.
I also gained a small number of mailing list subscribers - people who wanted to get periodic updates when new models are added to Replicate. The bump was smaller than I expected, but it makes sense that people who are already subscribed to one AI newsletter aren't ready to subscribe to another.

(I also have subscribers who signed up from the old substack link that I need to merge with this mailing list... total number today is just under 50. Here's the link if you want to join!)
Gratitude and Reflection
I want to take a moment to express my sincere gratitude to The Rundown and their editor, Rowan Cheung, for featuring Replicate Codex. It's moments like these that remind me of the importance of building genuine connections within the tech community and supporting one another's work. I also want to thank everyone who has contributed to Replicate Codex's success, whether through using the platform, providing feedback, or sharing it with others. ♥️ 🙏
Closing Thoughts: Lessons for Fellow Indie Hackers
As I reflect on this experience, I'm reminded of a few key lessons that I believe can benefit fellow indie developers:
Keep Building: Stay focused on your passion and continue improving your product. Recognition may come when you least expect it.
Embrace Community: Engage with others in the tech community. Share your work, offer support, and seek feedback. Most importantly, when it comes to marking... reach out! The worst they can say is no.
Celebrate Success: Take time to celebrate milestones, big or small. It's a testament to your hard work and dedication.
Thank you for taking the time to read about my experience. I hope that sharing this journey has provided valuable insights that can help you on your path as an indie developer. Let's continue to support each other and celebrate our collective successes in the world of technology!
Subscribe or follow me on Twitter for more content like this!